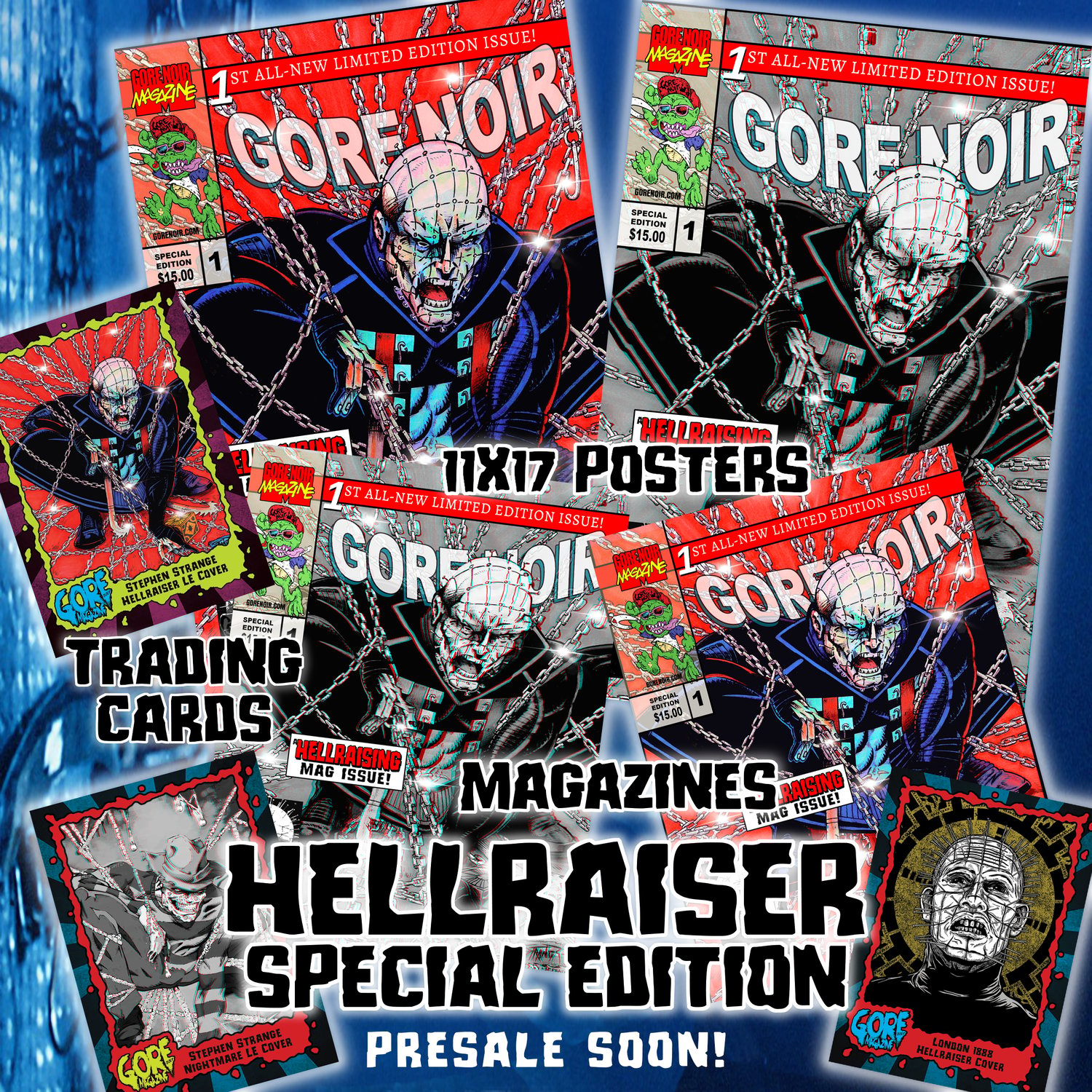 COMPLETE PACKAGE! 2 Mags, 2 Posters, 3 Trading Cards, 3d Glasses, Stickers
***PREORDER! ITEMS WILL SHIP IN 4-6 weeks and can take longer depending on other factors!*** These will be shipped separately. Mags in a cardboard mailer and posters in a flat 12x18 mailer and this is accounted for in shipping costs.
You get it ALL! Both 3d and Regular versions of the cover, Both versions of the 11x17 poster, 3D glasses (custom Gore Noir Magazine printed), and the 3 trading cards currently only available with this COMPLETE package!
3D mags & Posters are limited edition of 111
This issue is a re-release of our Hellraiser issue which features:
"Our main man Christopher Ott's beautiful Pinhead piece graces the back cover and we serve you up more of Ott's art inside! We've got Doug Bradley & Steph Sciullo, Barbie Wilde, Simon Bamford, & Nicholas Vince. You'll recognize Doug (Pinhead), Barbie (Female Cenobite), Simon (Butterball), and Nicholas (Chatterer) as the main 4 Cenobites for Hellraiser II. We catch up with them, their projects and their loved ones in this awesome issue. Steph Sciullo is an amazing sculptor and mixed media artist!
Also in this issue we have Lloyd Kaufman of Troma Films fame! With films like Toxic Avenger, Kabuki Man, Surf Nazi's Must Die, Pultrygeist, and a million others under his belt we talk to Kaufman about his exploits and what goes on in Troma day to day.
Need more art? We have the amazing artist Christopher Lovell, Tattoo Artist Ron Russo, Sculptor Gabe LaPeer, Puzzle boxes by Pyramid Gallery, beautiful photos by Obscuri, and much more in store! We have such sights to show you!!"