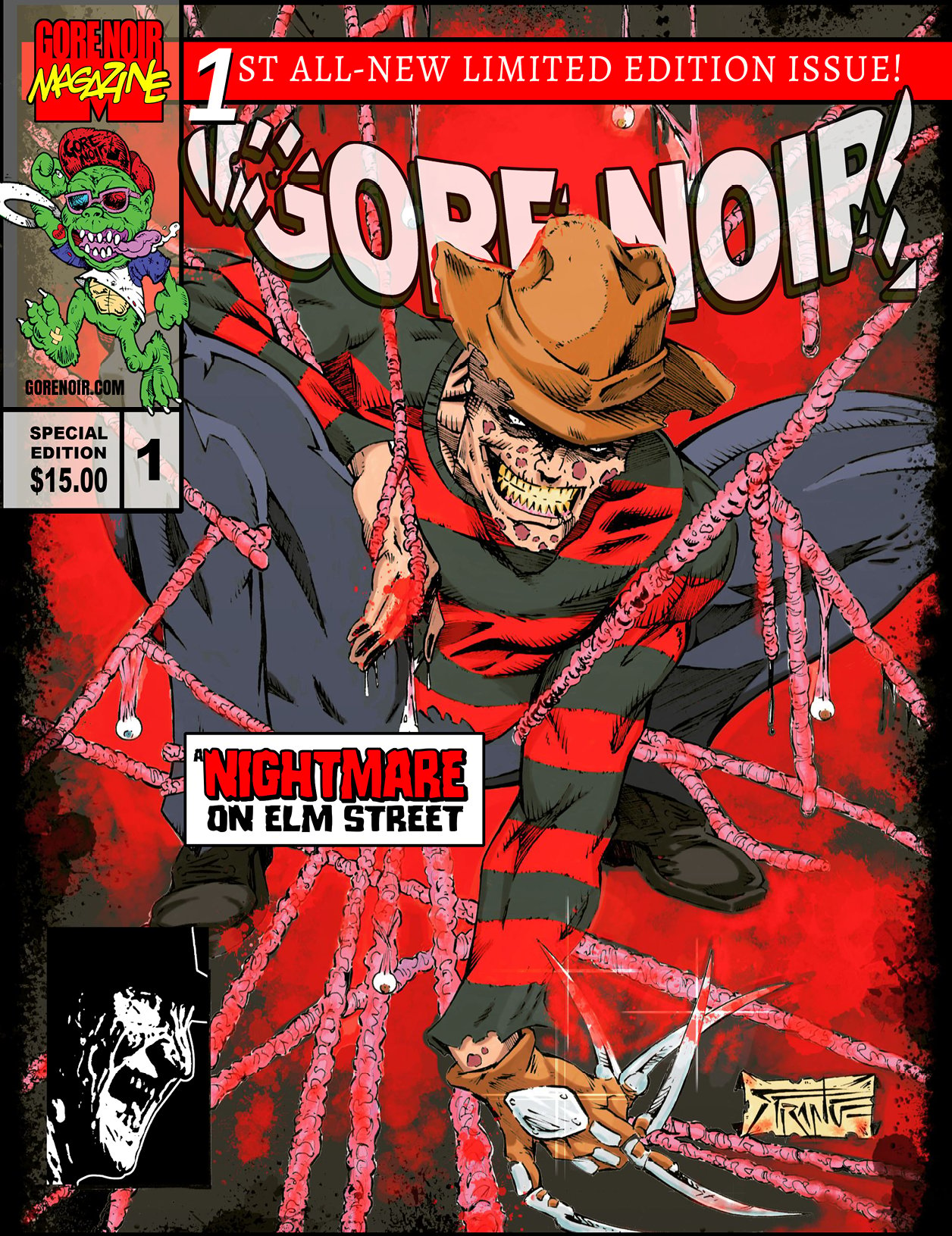 Nightmare on Elm Street LE Re-Release Package
IN HAND & SHIPPING WITHIN 5-7 DAYS
***All magazine are shipped in a manilla envelope, and have been for the last 10 years. Unfortunately due to recent issues with the USPS some orders have been arriving damaged which has never been a problem before. Due to this change in handling of magazines I am now offering customer the ability to provide their orders with extra protection with a cardboard mailer. Unfortunately if a cardboard mailer is not purchased I cannot be held accountable for any damages that may happen in shipping. Thanks for your understanding!***
---EDITION EXTENDED BACK TO ORIGINAL 222 PCS DUE TO DEMAND---
Limited to 222 pcs all orders of more than 3 will be cancelled and your money refunded! ONLY 3 PER PERSON!
This is our Nightmare on Elm Street issue wrapped up in a new exclusive reversible slip cover featuring art by Stephen Strange & Mike Barentine! Original cover by Matthew Peppler. If you buy multiple copies you'll be able to display multiples of your favorite covers together. These will be bagged and boarded to protect these collectors items. Included with each you'll get 3 trading cards and special Gore Noir 3D glasses. Lucky people who order will have the chance of getting some original Freddy's Dead 3D glasses! You'll also get some special stickers thrown in as well! Amazing deal for only $15.00 per package!
This limited edition run of issue 16 features an exclusive interview with ANOES's Lisa Wilcox aka ALICE! Also:
-Nightmare on Elm Street articles
-Atom Todd
-Zane Zena
-Stephen Strange
-Erica Kaufman
-Mike Barentine
-Matthew Peak
-Nightmares Unlimited
-Zombie Peepshow
-Matthew Peppler
ALL OF OUR ISSUES SELL OUT! DON'T BE LEFT OUT!
64 FULL COLOR pages 8.25" x 10.75"
4 additional pages (Including the 2 covers)
A total of 68 color pages!
*******INTERNATIONAL ORDERS PLEASE READ********
Because of the cost to get shipping *guaranteed* to overseas addresses there will be no guarantees that your magazine will make it to your doorstep. This is an order at your own risk statement and it is unfortunate but I've had a few customers not get their mags and our independent magazine loses lots of money we could use for future issues by having to refund money for lost international orders. Once it leaves our hands we are no longer in control and we provide no guarantee and will make no refunds from here on out. Inquire about delivery confirmation costs for international orders.