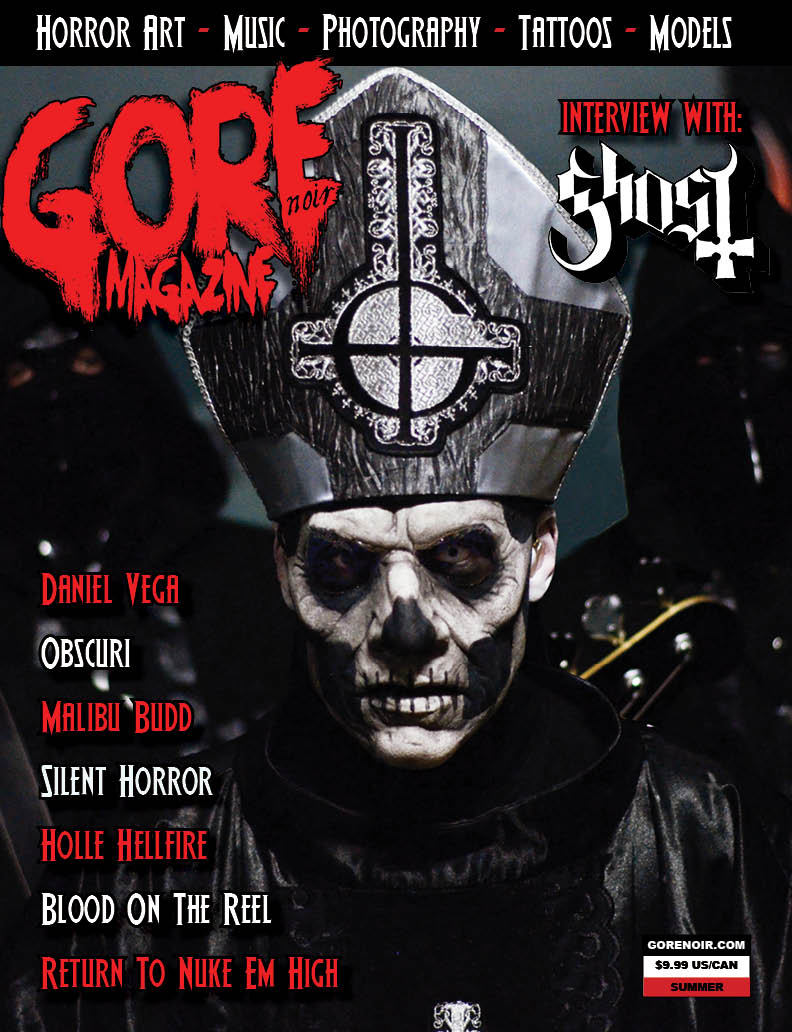 Gore Noir Magazine Issue #11 Featuring Ghost!
***All magazine are shipped in a manila envelope, and have been for the last 10 years. Unfortunately due to recent issues with the USPS some orders have been arriving damaged which has never been a problem before. Due to this change in handling of magazines I am now offering customer the ability to provide their orders with extra protection with a cardboard mailer. Unfortunately if a cardboard mailer is not purchased I cannot be held accountable for any damages that may happen in shipping. Thanks for your understanding!***
Gore Noir Magazine Issue #11 features an EXCLUSIVE interview with A Nameless Ghoul from Ghost to accompany lots of exclusive photos by Taylor Haggard of Ghost's Austin TX show! This issue also features interviews with TONS of the cast of Return To Nuke Em High! Troma really outdid itself with these films! Need more? We have interviews with Holle Hellfire (photos by Obscuri), We talk with Johnny Daggers about his documentary Blood on the Reel, we introduce horror rockers: Silent Horror, and also feature: Texylvania, Daniel Vega, Malibu Budd, VidVad Scare, Playful Gorilla, and a 3 year Gore Noir Magazine retrospect including Missy D Photography and Grimm. Awesome art from Playful Gorilla!
64 FULL COLOR pages 8.25" x 10.75"
*******INTERNATIONAL ORDERS PLEASE READ********
Because of the cost to get shipping *guaranteed* to overseas addresses there will be no guarantees that your magazine will make it to your doorstep. This is an order at your own risk statement and it is unfortunate but I've had a few customers not get their mags and our independent magazine loses lots of money we could use for future issues by having to refund money for lost international orders. Once it leaves our hands we are no longer in control and we provide no guarantee and will make no refunds from here on out. Inquire about delivery confirmation costs for international orders.